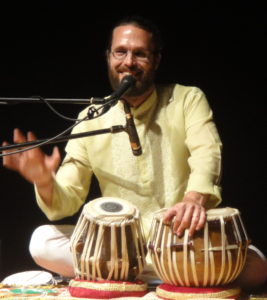 Shen Flindell started learning tabla in Melbourne from Sri Debapriya Bhattacharya in 1994 and soon went to the holy city of Varanasi in India to study under Pt. Kaviraj Ashutosh ("Ashu Babu") Bhattacharya, a great tabla master of the Benares Gharana. Shen is now mainly based in Brisbane, Australia, but typically spends several months of each year in Japan and India, and has performed with leading musicians in all three countries. Within the realm of Indian classical music, he is not only capable in the 4 fields of vocal accompaniment, instrumental accompaniment, Kathak dance accompaniment and tabla solo, but has also given successful accompaniment in South Indian music and dance performances.
Shen has also intitiated and participated in numerous collaborations with an eclectic range of world music artists. Shen's EthnoSuperLounge events bring together these musicians to share their songs and sounds in the spirit of unity, healing and transcendence. He has released 5 CDs: Deep with classical bansuri player Taro Terahara, Music is Life with world music group Tibet2Timbuk2, Rei-Mei with classical santoor player Setsuo Miyashita, the EthnoSuperLounge Live! – Jay Asu Babu compilation CD, and Basant Panchami, a classical sitar-tabla CD, and has made numerous guest appearances on CDs in Australia and Japan with world music and rock artists.
Shen's tabla playing is noted for his clear sound, comfortable rhythmic sense, intuitive accompaniment, sensuous bayan (bass) and a feeling of sincere devotion to Guru, Saraswati, Music and Tabla, thanks to many blessings from his Guru-ji.
He also teaches, supplies and repairs tabla. In Brisbane he recently opened the Ashu Babu Memorial Tabla School, with both adult and children's classes. Shen's lessons follow his Guru-ji's traditional classical style of teaching, emphasising quality of sound, refinement of hand-shape and development of technique and through devoted practice.
As well as giving tabla accompaniment at Sangeet Mela, Shen is a member of the Rising Star Award judging committee (Hindustani). Shen is the driving force behind Sangeet Mela, having been inspired by the regular all-night Sangeet Melas held by the Indian classical music community in Japan.