Sangeet Mela, now in its third year, continued its trend of ever more fabulous Indian classical performances on Saturday 3rd September 2016 at Queensland Multicultural Centre. The high quality of each item kept the near capacity audience riveted to their seats, and there was a building sense of anticipation for the final "East Marries West" jugalbandi by international feature artists, Pt Shubhendra Rao (sitar) and Smt Saskia Rao-de Haas (cello) with Sri Zuheb Ahmed Khan (tabla).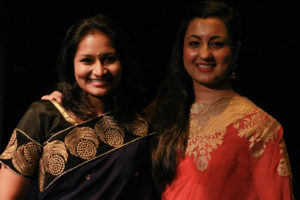 Sangeet Mela 2016 MCs Ku Alka Jaggessar and Dr Helena Joshi

The festival opened with performances by young artists under 25 who had applied for the Sangeet Premi Rising Star Awards and the chance to perform at this prestigious festival. Mathuja Bavan, who won the award for Bharat Natyam dance in 2015, returned to the stage on violin, accompanying her younger sister Oaviya who received the award for Carnatic vocal. They were joined on mridangam by fellow award winner Hariharan Vaheesan and his guru Arthavan Selvanathan.
Rising Star Award winners Hariharan Vaheesan, Mathuja Bavan and Oaviya Bavan with Brisbane Indian Times editor Sri Umesh Chandra
The featured Rising Star in Hindustani vocal was Ananya Muralidharan, who enchanted the audience with her sweet voice, rendering Raga Bhimpalassi and a short bhajan most beautifully.
Finally Vellantina Ravirajah received the award for Bharat Natyam dance and demonstrated her talent in abhinaya (facial expressions) and drama.
We heartily congratulate this year's Sangeet Premi Rising Star Award winners and look forward to many more great performances from them.

The afternoon session closed with a tabla solo by Sri Zuheb Ahmed Khan, a member of the founding family of Ajrara Gharana. His performance featured a dazzling range of compositions from off-beat Peshkar to rapid, flowing Rela and sent the audience to the interval eagerly awaiting more.
The second session opened with a captivating performance of Mohiniattam dance by Smt Bindu Rajendren, certainly one of the highlights in a day full of magic moments. Her padams "Karukarey Karmukil", "Enthaho vallabha" and "Pandhattam" had the crowd enthralled with her wide palette of expressions from humorous to serene.
Sangeet Premi Club president Yousuf Alikhan invited the audience to spread the word about Sangeet Mela and Indian classical music and dance.
Smt Charulatha Mani (Carnatic vocal), with accompaniment by interstate artists Sridhar Chari (mridangam) and Kranthi Kiran Mudigonda (violin), gave a consummate presentation of how so-called "difficult" classical music can be presented with mastery and grace, and become spell-binding for any listener regardless of background. She even had everyone laughing when she responded to some hesitant applause with "a few more years of Sangeet Mela and you'll know when to clap!"
The sunset session was closed by young Sydney vocalist, Sri Sayak Bhattacharya presenting Raga Bihag followed by a short rendition of Raga Puriya Kalyan, with able accompaniment by local artists Sri Joseph Nand (harmonium) and Sri Shen Flindell (tabla). The ease and fluidity of his voice evoked his renowned guru Ustad Rashid Khan, and it was hard to believe that he grew up mainly in Sydney.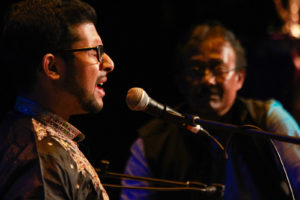 Festival director Sri Shen Flindell, Brisbane Indian Times editor Sri Umesh Chandra, Councillor Jonathan Sri of The Gabba Ward, and Sangeet Premi Club president Sri Yousuf Alikhan. 
Following the dinner interval, we had a special performance by Bharat Natyam dancer Ku Janani Ganapathi with a live ensemble of local and interstate musicians led by vocalist Smt Susmitha Ravi and natthuvangist Smt Usha Chivukula.
Janani gave a masterful performance and the electricity manifest by the dancer and musicians creating their art simultaneously added to the excitement and attraction.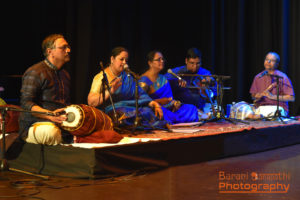 Councillor Jonathan Sri of The Gabba Ward addressed the audience while the stage was being set up for the final item. The Gabba Ward supported Sangeet Mela 2016 through the Suburban Development Fund. His comments about the importance of cultural events like Sangeet Mela and how it would be better to spend a bit less on sport and more on culture were very well received.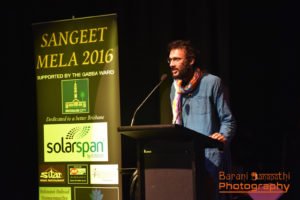 At last the moment every was waiting for had arrived. Having witnessed a wide variety of excellent Indian classical performances, everyone was in the mood for something really sensational and their expectations were exceeded by Sangeet Mela 2016's grand finale.
Pt Shubhendra Rao, protegee of the great sitar maestro Pt Ravi Shankar, with his wife Smt Saskia Rao-de Haas, pioneer of the Indian cello, had the audience captivated from first to last with their jugalbandi. In particular, the sound of the cello with its long deep meends and beautiful tone, and Saskia's lively and at times ecstatic demeanour really stole the show.
The harmony and interplay between Shubhendra's traditional Maihar gharana sitar and Saskia's innovative cello demonstrated a couple deeply in love and honouring each other through their shared devotion to classical tradition. Alap-jor-jhala in Raga Jog was followed by vilambit and drut gats in Rag Charukeshi, where tablist Zuheb Ahmed Khan added tasteful accompaniment and thrilling solos. The artists responded to the standing ovation and calls for encore with a lovely short medley of Vaishnava Janato and a Bengali dhun.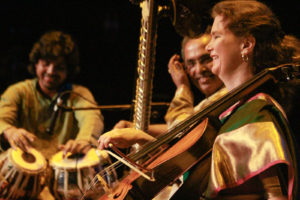 A day of smiles and thrills, meditation and ecstasy through music and dance had come to a close. The festival organisers Sangeet Premi Club and EthnoSuperLounge are very grateful to the sponsors and supporting organisations, artists, volunteers and ticket buyers for making it all possible. We eagerly await Sangeet Mela 2017.
Photo credits: Brian Sullivan and Barani Ganapathi. See many more photos in our Sangeet Mela 2016 Facebook album.
Sangeet Mela 2016 was supported by the Lord Mayor's Suburban Initiative Fund and The Gabba Ward, and proudly sponsored by Platinum Sponsor SolarSpan, Australia's favourite all-in-one patio roof, insulation & ceiling, giving superior comfort & style to your outdoor area. Also supported by Supporting Organisation Sahaja Yoga Meditation, Silver Sponsors Homeopathy for Health (Rukmani Paliwal), Sitar Restaurant, Target Travels & Tours, Yoga With Yolanda, IGA Forest Lake, and Exclusive Media Sponsors Brisbane Indian Times and Australian Indian Radio. Sangeet Mela is organised bySangeet Premi Club in conjunction with EthnoSuperLounge, and underwritten by a consortium of dedicated Indian classical music lovers including Australia-India Cultural Exchange Association, Tabla Wala Australia, and FinancialFirst.